It's the big one: a few days back Shock Street crowned The Babysitter Murders as the top horror short of 2016, and now it's time to take a look at the features.
We got around this year, and saw a whole load of great stuff in the process. Visits to FrightFest Glasgow, FrightFest London and Sheffield's Celluloid Screams all brought some unbelievably high class films to the fore, and as a result, there's no way we could ever include everything we wanted to in a list of ten. For instance, it's not every year that there would be no room in the top ten for the likes of Mitch Wilson's riotous throwback Knucklebones (which, while not making the final ten here, is indisputably the most fun we had in the theatre in 2016, as anyone in attendance at the film's World Premiere at FrightFest this summer would attest) or Babak Anvari's chilling dark fairytale Under The Shadow.
That being said, after much deliberation, Shock Street Horror's Top Ten Horror Films of 2016 are:
10. Southbound
Directorial collective Radio Silence delivered the best of the current wave of anthologies this year with Southbound, a smart, deftly-woven set of stories all centred around disparate travellers on the same mysterious, barren stretch of road. There's not a weak link in the bunch here, but the pick of the stories on offer, set in an abandoned hospital in the aftermath of a brutal car accident, provided us with some particularly horrifying, squirm-inducing moments. With Larry Fessenden providing charismatic narration in the form of a ubiquitous radio DJ, this is a gem worth seeking out.
Southbound is out now on DVD, and is streaming on Amazon Prime. Watch the trailer here.
9. The Neon Demon
Drive director Nicholas Winding Refn is no stranger to dividing opinion, and did so again this year with The Neon Demon, an austere, stylish dive into the seedy underbelly of professional modelling. All sparse dialogue, stunning photography and knowingly superficial characters, some found this to be a case of style trumping substance, but for us, this was captivating right up to its brutal finale. Dazzling.
The Neon Demon is out now on DVD and Blu Ray. Watch the trailer here.
8. Raw
Julia Ducournau's Raw made something of a splash on the festival circuit purely on the number of fainting audience members it started to accrue. However, beyond the brutality lies a film that makes a profound impact on a number of levels. As much about coming-of-age, sexual awakening and the relationship between two sisters as it was about its more headline-grabbing moments and cannibalistic themes, this has turned into a deserved critical hit, and will almost certainly turn out to richly reward repeat viewings.
Watch the trailer here.
7. Patchwork
Who knows when the UK at large will get a closer look at Tyler MacIntyre's Frankenstein-riffing Patchwork, but for those of you who missed out on it at FrightFest Glasgow, it's one to keep checking up on. A gleefully insane 80s homage about three women who wake up to find they've been brutally murdered, stitched together into one woman, reanimated and abandoned, their quest to find the man who did it is peppered with ingenious set pieces, genuinely hilarious dialogue and the year's best visual joke. "FLY, ARCHIMEDES, FLY!" A real breakout hit, and one that earmarks the arrival of a seriously promising new voice in the genre.
Watch the trailer here.
6. Beyond the Gates
Speaking of promising new voices in the genre, Jackson Stewart amassed a mountain of well-deserved attention when Beyond the Gates exploded onto the festival circuit in 2016. Telling the tale of two brothers who find a 90s VHS board game in the back room of their late father's video store, this one feels both familiar and totally fresh. Fusing its horror leanings with an unusually minimal indie/mumblecore sensibility, Beyond the Gates is bursting with creativity and seems destined for cult classic status.
Beyond the Gates is released on DVD in the UK through Signature Entertainment on February 20th 2017. Watch the trailer here.
5. The Invitation
While we here at SSH never had much time for Jennifer's Body, director Karyn Kusama's follow-up was a different beast entirely. The Invitation is a simple, low-key and bracingly effective claustrophobic thriller that assembles a group of friends at a dinner party, and then proceeds to ratchet up the tension in increasingly creative ways. Breathlessly paced and immaculately executed right through to its unforgettable final shot, this worked as a thriller, a horror movie, and a quietly intense character study.
The Invitation is now streaming on Netflix UK. Watch the trailer here.
4. The Witch
Frequently the subject of idiotic "is that really a horror film" discussions in 2016, Robert Eggers provided something truly original and genuinely scary in The Witch, a stunningly crafted and smartly slow-burning "folk tale" that was the year's most proficient and effective exercise in the old adage of "less is more". Quietly understated but never ponderous, this was a devastating piece of work anchored by a star-making performance from Anya Taylor-Joy, and with Eggers now in line to direct an ambitious remake of Nosferatu, it's fair to say 2017 will be an interesting year for both the director and his leading lady.
The Witch is out now on UK DVD and VOD. Watch the trailer here.
3. Green Room
Having ventured into dark dramatic terrain with his first two features Murder Party and Blue Ruin, Jeremy Saulnier fully embraced horror this year with Green Room. The deceptively simple story of a punk band who get marooned in the titular green room of a gig venue run by neo-Nazis, it's a devastatingly violent and impossibly suspenseful effort that boasts claustrophobic thrills, gut-punch violence and strong lead performances from Patrick Stewart, Imogen Poots and the late Anton Yelchin.
Green Room is out now on UK DVD and VOD. Watch the trailer here.
2. Trash Fire
Richard Bates Jr., having previously knocked us out with Suburban Gothic and the genuinely remarkable Excision, found the perfect means to take his twisted blend of horror and pitch-black comedy kicking and screaming into the mainstream this year. Trash Fire is simultaneously a tougher watch and more accessible than his previous work, and also feels like his most mature to date. Entourage's Adrian Grenier plays Owen, a borderline-unwatchable narcissist who, in an attempt at self-improvement, promises to reconnect with his estranged family to appease his long-suffering fiancee Isabel (Angela Trimbur). Isabel doesn't know what she's letting herself in for, and what follows is a stiflingly awkward, bleakly hilarious and ultimately devastating film that goes stratospheric on account of Bates' ear for a killer put-down, powerhouse central performances and a finale that proves the director's mastery at balancing humour against the darkness.
Trash Fire is now available from UK VOD outlets. Watch the trailer here.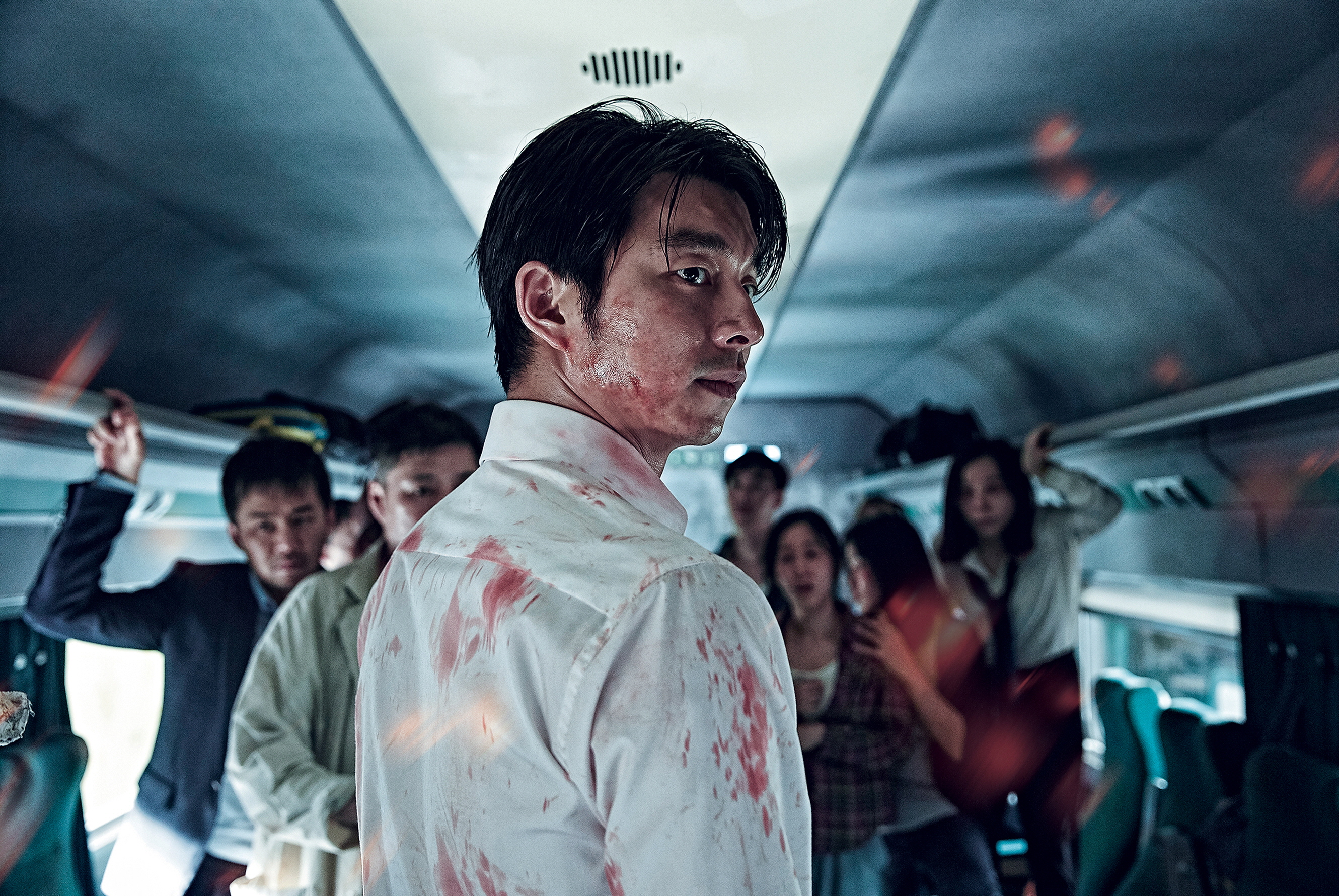 1. Train to Busan
In a post-Walking Dead world where the zombie subgenre feels either totally exhausted or in need of a drastic shot in the arm, Train to Busan was the wake-up call it so greatly needed. Set almost entirely aboard a train rocked by a zombie outbreak, this story of a father's attempt to get his young daughter to Busan to visit his estranged ex-wife delivered action, gore and emotional depth in equal measures. As the enemies descend and the room the survivors have to breathe gets progressively smaller, Train to Busan simmers with tension, but also does the legwork to make sure that when characters are inevitably picked off, their deaths also resonate on a more profound level. The year's best film, and one of the best the subgenre has ever produced.
Train to Busan is out on DVD and Blu Ray in the UK on February 27th. Watch the trailer here.